Best Summer Pack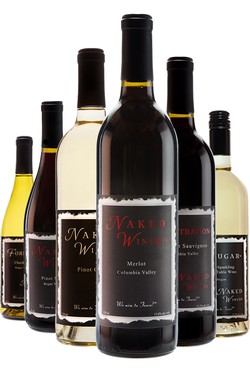 3 reds and 3 whites make up this nice sample pack of Naked Winery wines. This is a great way to try a variety of our most popular varietals. Perfect for parties, wedding or anniversary gifts or just to add to your cellar.
This mixed pack includes:
Cougar Semi-Sparkling - This wine draws in the tongue with sweet flavors of tropical fruits and then seals the deal with a light sparkle.
Foreplay Chardonnay - A crisp and refreshing Chardonnay, lightly oaked with no malolactic fermentation leaving a clean finish of juicy green apples and ripe pears.
Naked Pinot Gris - Crisp and light, everyone enjoys this nice and easy white.
Naked Merlot - Aged in both French and American oak barrels, this smooth and soft fruity dark red has notes of ripe cherry and aromas of blackberries
Naked Pinot Noir - Enjoy the classic light body and rich cherry nose with a delicate satin tannin finish that lingers playfully on your tongue. It's our no fuss, bare all wine.
Penetration Cabernet Sauvignon - A juicy mouthful of cherry and black currant fruit that dance playfully on your tongue, voluptuous body with soft oak and smooth leathery notes promises to deliver at every encounter.