Easy Breezy Pack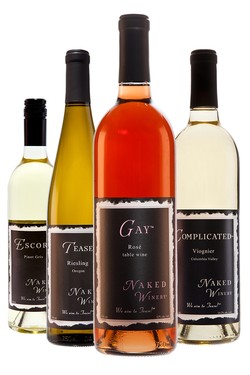 This Mixed Pack includes:
Complicated Viognier - Tempting and alluring with notes of sunkissed citrus and candied lemons.
Escort Pinot Gris - Rich minerality with stone fruits, peach and apricot on the nose; with a blast of lime citrus on the palate followed by a long soft finish.
Gay Rose` - Light, bright and fruity with just a hint of sweetness, you'll love this dry blush wine.
Tease Riesling - Semi-sweet and light, this wine is bountiful in summer fruit, candied casaba melons, honey drizzled apricots, with a soft lemon citrus finish.