Cougar Semi-Sparkling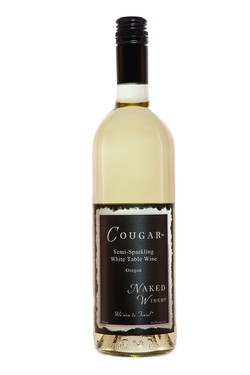 Our Cougar bursts on the tongue with bubbles that tickle the mouth, but don't overwhelm your senses, showing her maturity and expertise. This wine draws in the tongue with sweet flavors of tropical fruits and then seals the deal with a light sparkle.
BACK LABEL
Sweet and sexy, this feline is ready to pounce on any untamed palate. This wine is no naive little kitten, but a lust puss offering ripe fleshy peach flavors. She fondles you with light sparkling strokes, then grips you with her cocksure claws. Get ready to learn the meaning of lusciousness, you hungry cub - this refined Cougar is what you've been craving.
Wine Specs
Aging
A Cougar never tells
Wine Profile
Tasting Notes
A Cougar is a great addition to any party as her bubbly personality lights up a room. For a morning treat, the Cougar mimosa is a staff and wine club favorite.
Food Pairing Notes
Cougar might be one of the few stand-alone wines. This wine appeals to sweet wine lovers, white and red lovers, old and young. No one doesn't love Cougar!
Other Notes
Try this! Cougar cocktail—muddled blueberries, squeeze of fresh lime, splash of club soda, a little grape juice and a hefty pour of Cougar and you've got yourself a sweet little cocktail that will make all the kittens (and tigers) MEOW!